Aristotle & Dante Discover The Secrets of The Universe by Benjamin Alire Sáenz
"I bet you could sometimes find all the mysteries of the universe in someone's hand."
MARIAHREADIT BOOK REVIEW
I'm still coming to terms with this book. It's always the great books that I struggle to put into words.

First things first, I swear I'm not an idiot but I had no idea this was a lgbt book until I was an embarassing percentage into it. And then I was unsure if I was imagining things and had to come check. To be honest, if I knew this was an lgbt book I probably would have read it a looooot sooner. That being said, I'm kind of glad I experienced this book the way I did, sort of cluing into the fact as other characters did.

Second, the main reason I picked up this book is because Lin-Manuel Miranda did the Audible narration and boy oh boy if you're itching for a reread of this one, might I strongly suggest that version because Lin gives voice to Ari in the most beautiful and genuine way - this is a great book in itself, but Lin brings it to life from the very first minute.

I understand from reading other reviews that some people had a hard time connecting with Ari... May I say, with all due respect, that those are not the people for whom this book was meant for.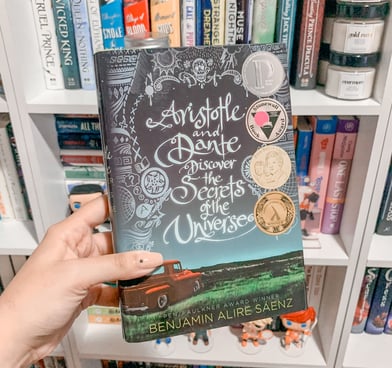 "I got to thinking that poems were like people. Some people you got right off the bat. Some people you just didn't get--and never would get."