City of Bones by Cassandra Clare
"Shadowhunters: Looking Better In Black Than The Widows of our Enemies Since 1234."
BOOK REVIEW MARIAHREADIT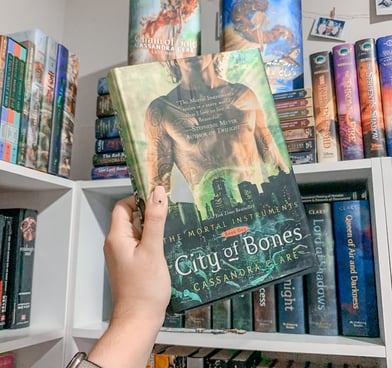 My post contentFirst read: Jan 2010 (Age 16)
Second read: June 2019 (Age 26)

I was more than a little scared picking this up 10 years after I first read it and the original trilogy, but a reread was a must if I was going to tackle the rest of Cassandra Clare's books. I was pleasantly surprised at how much I enjoyed it and not so pleasantly surprised at how I let myself be somewhat influenced by what seems to be the majority's opinion on these books. Out of all of CC's books the TMI original trilogy sort of gets the Twilight treatment, and I somehow started thinking that I wouldn't enjoy reading these, even though I thoroughly did the first time - surprise: my younger self's opinion is more reliable than the general internet's. What a shock.

About halfway through this book I was pulled back into its world and every time I had to stop reading I felt like I was coming out of a dream. While this book is 12 years old and the main character is quite young, the world Clare creates is a success for a reason. It is intricate and bright and the characters are likeable even when they shouldn't be but maybe that's just because my humor can be easily classified as "sarcasm" and "assholish."

I'm actually pretty excited to dive back into this series and I'm looking forward to meeting all these new (to me) characters.


Our story starts in New York city in 2007 with fifteen year old Clarissa "Clary" Fray. Clary lives with her mother Jocelyn since her father died while her mom was still pregnant with her. She is an aspiring artist, like her mom, and she spends her days sketching and painting and hanging out with her nerdy best friend Simon.

One night, when Clary and Simon are out in a local nightclub called Pandemonium, Clary witnesses a murder - while that's terrible and possibly traumatizing, that's not the worst part: the murderers are other teenagers covered in weird tattoos and using crazy weapons. It gets even weirder when the victim just disappears into thin air.

No one else seems to be able to even see these people, much less call it in to the authorities. Clary and Simon get pulled into a world of magic that exists right beside their very own and nothing will ever be the same.

Clary confronts the three teenagers that call themselves Shadowhunters and gets a lot more than she bargained for: Jace Wayland, who "looks a little like an angel and acts a lot like a jerk", and the siblings Alec Lightwood, who seems to hate her from the get go, and Isabelle Lightwood who is the living embodiment of the phrase "darling I'm a nightmare dressed like a daydream."

This unlikely group will have to figure out how to work together to save those they love.