Clockwork Princess by Cassandra Clare
"Life is a book and there are a thousand pages I have not yet read."
BOOK REVIEW MARIAHREADIT
"It was a near incomprehensible tangle, the three of them, but there was one certainty, and that was that there was no lack of love between them."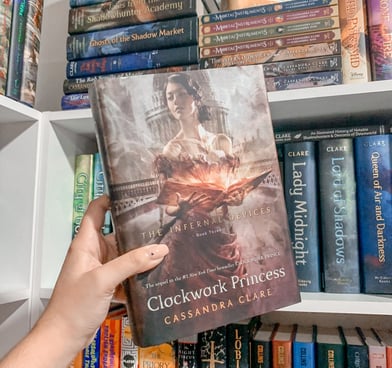 If you need me I'll be sobbing into a pint of mint chip while binging Tessa/Will/Jem fanfiction for the foreseeable future.

So this book was actually a solid three star read up until 80% in when the crying started. While I may not have absolutely loved the path we took to get here (plot wise) one does not violently sob for characters one doesn't absolutely love.

I am a sucker for a best friend story, and this is what this was, at its core. Will and Jem will be immortalized in my list of Best Best Friends and nothing will ever take that away.

I feel like I also need to speak on the mastery that is the tangle of information and world building that Clare has confected to this point. Reading in publishing order really lets you pick out those morsels that she sets down for us, of connections between Tessa's timeline and Clary's and of Shadowhunter history. As someone who has always wanted to build a complex fantasy world of her own, hats off Ms. Clare.

I'm writing this the morning after, with swollen eyes as the evidence of just how much crying I did last night. My heart is heavy but also happy? I don't even know man, sorry if this makes no sense. To be continued at After the Bridge.