Red, White & Royal Blue by Casey McQuinston
"Sometimes you just jump and hope it's not a cliff."
BOOK REVIEW MARIAHREADIT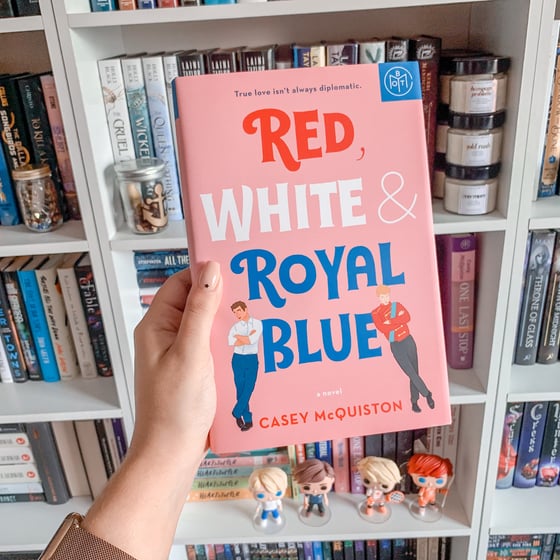 YOU! Yes, you! I need you to stop whatever you're doing and put this book in your TBR-ASAP List because <i>boy, oh boy.</i>
You see, I have been an anxious and stressed wreck for 4 months (BAR results will be out in 8 days hyperventilates) so I haven't really been able to sit down and write reviews for quite a bit but I actually stopped and made that collage thing (it's my first ever, sorry if it's terrible) and I am now trying to figure out what I want to say about this book other than just. Just. Sigh.
because, yes, this is romantic, and adorable, and fun. But it is also rich with culture, and identity, and it is so so painfully relevant that I pity those who will think this is just another frivolous cliché romance because it is so much more than that. Truly.
See, this story was born at a time where many of us were heartbroken and terrified. It is a story about hope and change - a story I didn't know I have needed since November 2016. And it is also a pile of laughs, I honestly thought I was going to permanently damange my facial muscles from grinning so hard for so long. What a stunning debut, hats off Ms. McQuiston.
From the rich depiction of the Claremont-Díaz's biracial family, Alex's identity as young Mexican-American, to being yourself inspite of everything and everyone that tells you <i>you</i> are wrong, to the witty dialogue and vivid characters I have been completely captivated by this book.
THE FIRST SON
Alex Claremont-Díaz is the son of the first female President of the United States. He's having a grand ol' time with his best friends, affectionately known as 'The White House Trio' made up of his older sister June, and ex-girlfriend Nora - the VP's granddaughter. The year is 2019 and his mom is finishing her third year as President and gearing up for re-election, Alex is close to graduating GW, he's adored by his country and has his eyes on Congress when an altercation at the Royal Wedding of Prince Phillip derails his plans.
THE PRINCE
Henry of Wales is currently the fourth in line to the throne and not much is known about him other than his Hollywood good looks and cool persona - and the fact that he pushes all of Alex's buttons. When an unfortunate tiff ends up splashed on every media outlet, these two will be forced to spend time in the other's company and make nice for the cameras while trying not to murder each other.