Tales From The Shadowhunter Academy by Cassandra Clare
"You are the flame that cannot be put out. You are the star that cannot be lost. You are who you always have been, and that is enough and more than enough. Anyone who looks at you and sees darkness is blind."
BOOK REVIEW MARIAHREADIT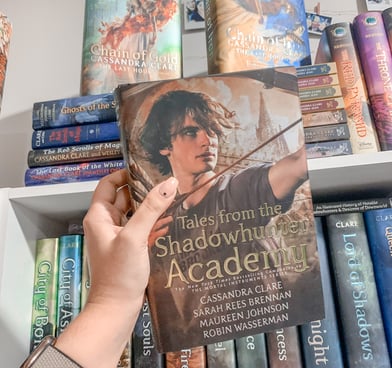 I've been staring at a wall for the past 40 minutes because I'm just- I can't.

Alright, here's the deal: some authors write short little anthologies, to – let me be blunt here – grab some coin. Because we're all gonna buy them! But maybe not everyone will actually ever read them, but that's beside the point. Cassandra Clare seems to refuse to do this. Instead she delivers this 700 page monster that will absolutely bite you – I'm pretty sure that's where the tears came from!

This book features a slew of old and beloved characters, as well as characters we've met before but hadn't had a chance to get to know, and it also introduces brand new faces to join the wealth of Clare characters that will forever take up real estate in my heart.

To James, Matthew, Christopher & Thomas – I will see you in Chain Of Gold, try not to blow anything up until then – you all know who I'm talking about.
To George, Jon, Julie, Beatriz and Marisol (Bad Bunny voice: LATINA GANG GANG) hoping to hear (good things only) about you in The Dark Artifices.