The Bane Chronicles by Cassandra Clare
"Trust. It is like placing a blade in someone's hand and setting the very point to your heart."
BOOK REVIEW MARIAHREADIT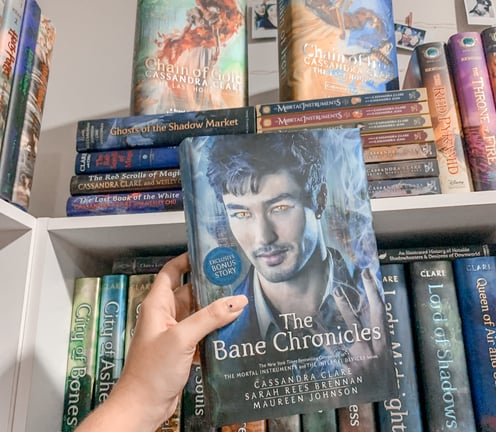 I really enjoyed this! Immortal characters are so intriguing, they can have such an uncommon perspective, if only an author takes the time to let you glimpse into their long lives.
This is a brief look into Magnus' eventful 300 years, and we get to check in with him during some key moments in his life.

I admire how Clare picked big events in history and showed how Magnus' unique viewpoint, not only as an immortal warlock, but as an asian and bisexual person fit into the context of the time he was living in.

From a run in with Marie Antoinette, to a peek at James Herondale and what will go down in Chain of Gold, to Prohibiton, the Great Depression, and the AIDS epidemic as well as his first run in with Valentine: this is such a well crafted history of one of the most complex characters in an incredibly vast literary universe.

I also deeply appreaciated Magnus' POV of his relationship with Alec. I'm always annoyed when an immortal being has a relationship with a teenager, I keep thinking about how their different life experiences and gigantic difference in levels of maturity would make for a very short lived and shallow relationship... However, Clare does it extremely well. We get to see some of Magnus' relationships through the years and it's suddenly clear how Alec is different for him. Malec or bust.

What Really Happened in Peru - ⭐⭐
The Runaway Queen - ⭐⭐
Vampires, Scones, and Edmund Herondale - ⭐⭐⭐✨
The Midnight Heir - ⭐⭐⭐⭐
The Rise of The Hotel Dumort - ⭐⭐⭐✨
Saving Raphael Santiago - ⭐⭐⭐⭐ - this one got tears out of me dammit
The Fall of The Hotel Dumort - ⭐⭐⭐✨
What To Buy a Shadowhunter Who Has Everything - ⭐⭐⭐⭐
The Last Stand of The New York Institute - ⭐⭐⭐⭐
The Course of True Love (and First Dates) - ⭐⭐⭐⭐
The Voicemail of Magnus Bane - ⭐⭐