The Near Witch by V.E. Schwab
"Maybe one day the words will pour out like so many others, easy and smooth and on their own. Right now they take pieces of me with them."
BOOK REVIEW MARIAHREADIT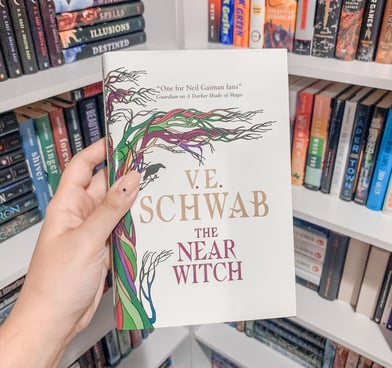 Started reading this in March/19 but I dropped it about halfway through.
Found myself in a mood yesterday at around 2am and here we are.

It's virtually impossible to be on GR without coming across raving reviews to one of Schwab's series.
They've all peaked my interest, and I own ADSOM, MOV, CB and limited signed editions of The Near Witch and Vicious & Vengeful from Forbidden Planet and Illumicrate in anticipation for my future obsession with V.E. Schwab. Yes, I'm insane.

I like my experiences to be linear, so I had been putting off reading any of those until I read The Near Witch. I like seeing the way the author's writing evolves through the years as well as how their perspective changes.

The 2019 reprint has a letter from Schwab that I found so interesting and I think anyone who loves books would benefit from reading, so I'll link a transcription I found here:
http://ruqkish.com/2019/05/v-e-schwab...

As someone who loves books and reading, and has more than a few plot bunnies in her head that she wishes she will one day have the courage and the discipline to sit down and actually write down, hearing V.E. Schwab call her first story (not TNW) a "plot-less, acid trip of a story" gives me hope.

Now onto The Near Witch. This is a weird one. It's quiet and dark and gives off Neil Gaiman vibes.

If you're planning your future obsession with Schwab books, I'd say start with this one.

If you're a casual reader, go for the series that sounds most interesting to you.