The Raven Cycle by Maggie Stiefvater
"My words are unerring tools of destruction, and I've come unequipped with the ability to disarm them."
BOOK REVIEW MARIAHREADIT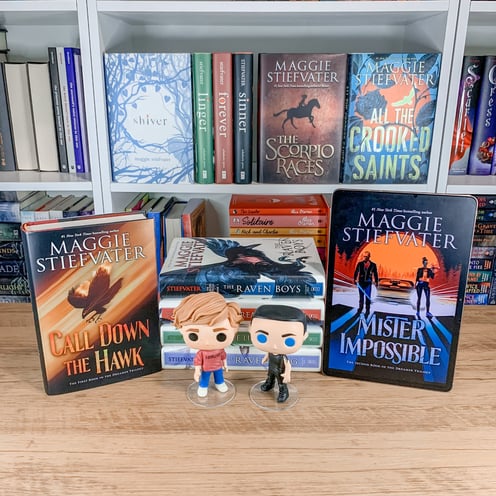 My post contentI'd heard that Ronan Lynch had Andrew Minyard energy, but that's the kind of thing a girl has to read for herself to believe.
I wish y'all could see the stupid giddy grin I have on my face right now. That last chapter (of Book 2)... Ooof.

That said, this was definitely slower than the first one for me.
The begining and the middle went around and around without ever really stopping anywhere, and then it dropped some acid (in the shape of one Joseph Kavinsky) and it went 0 to 100 real quick.

I was happy about the fact that the focus shifted away from Blue in this book.
Alas, I have to admit that I signed up to have my feelings hurt by and for Ronan Lynch,
and that's exactly what I got.

This still has that magic prose, where out of nowhere a line just punches you in the gut and goes on it's merry way, and you're left there, never to be the same again.

Did I consume this series in 4 days or did it consume me?
For those who had to wait 4 years to see it through, I respect you but I don't envy you.
Do I care about Jordan Henessey & Carmen Farooq-Lane?
No. No, I don't.
Did their POVs and story lines make this book slow and kind of boring?
Yes, very much so.

But honestly, I would read the entirety of The Rise and Fall of The Roman Empire
for one new Pynch scene, so ¯\(ツ)/¯

How in the heck does one rate this???
It was very good. I hated it.

Okay. I'm going to woman up and say it. This read like 340 pages of filler.

I enjoyed it and it wasn't boring (which was my main issue with CDTH).
The prose was trademark Maggie Stiefvater wonderfulness.
I like Declan Lynch now. That's a thing.
A Matthew Lynch POV?? We're not worthy.

But like.
I feel like this book could've been bonus content on the author's website while we actually wait for the next installment in this series.